Are you ready to find your soul mate?
Order Here
Select your Mate
           Second Edition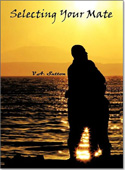 Paperback:

 

164 pages
Publisher:

 VAS Publishing 

(November 27, 2017)
Language:

 

English
ISBN - 978-0-9996-194-1-4 (sc)
ISBN - 978-0-9996-194-0-7 (hc)
ISBN - 978-0-9996-194-2-1 (e)
Product Dimensions:

 

6 x 0.4 x 9 inches
  Barnes & Noble           Amazon    Ingram Books
Order this book online at www.selectingyourmate.com
Or email orders at authorvasutton@yahoo.com
© Copyright 2011 V.A. Sutton
All rights reserved. No part of this publication may be reproduced, stored in a retrieval
system, or transmitted, in any form or by any means electronic, mechanical, photocopying,
recording, or otherwise, without the written prior permission of the author.
Printed in the United States of America
ISBN - 978-0-9996-194-1-4 (sc)
ISBN - 978-0-9996-194-0-7 (hc)
ISBN - 978-0-9996-194-2-1 (e)
Library of Congress Control Number: 2018905681
VAS Publishing  
www.selectingyourmate.com
North America & International